30-Day Challenge: November 2023!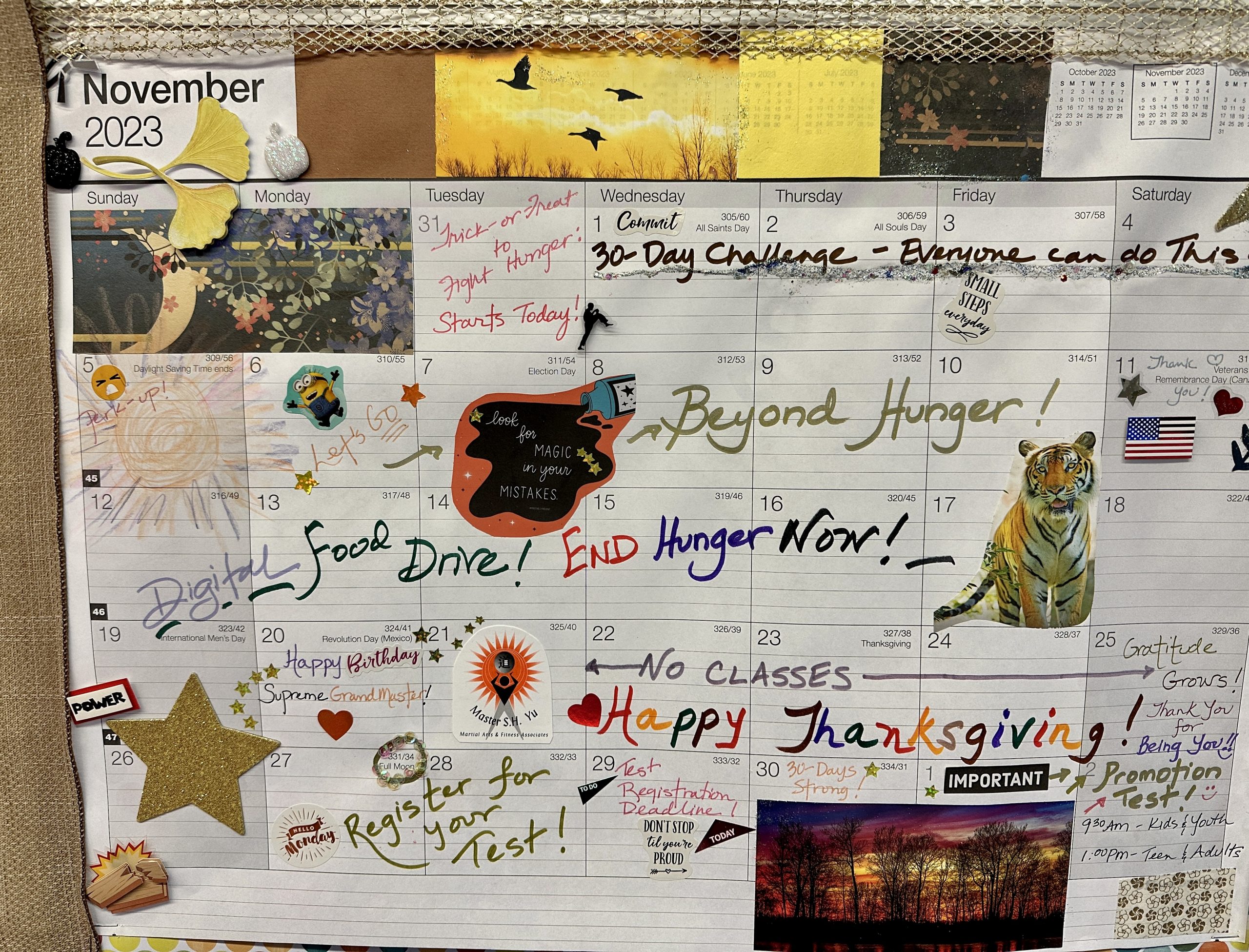 Be Outstanding!  Bring on the Challenge!  We have a great way to close-out "#OUTSTANDING OCTOBER":  It's that time of year when we look within to reclaim our healthy habits and daily practice before those holidays and year-end obligations creep up on us!  It's time to join in-community, yet work at our own pace, within our own schedules, to unite as martial artists for our Healthy Lives! Let's have some fun together! Let's encourage each other along the way!
We will be handing out the challenge for Trick-or-Treat from 4-6pm on 10.31, but if you are looking to jump-start, here's the deal:  (SO EASY!!!)
November 2023: 30-day Challenge
Let's do this!  Commit, Discipline, Do!
Remember:  This challenge is for YOU!  It's YOURS!  Do it and Own it – YOU are in charge!
Daily:
20 Pushups – Optional:  start with regular pushups, and work up to walking pushups by month-end!
Planks – start with 20 seconds, or whatever duration makes you mildly uncomfortable; increase 5 seconds per day through month-end. You will be amazed!!! Try to get to a minute consistently every day.
RoundHouse Kicks – QUALITY! 20 consecutive snaps on each side  – increase by week up to 30 maximum with pull-back each time.
Stretch Kicks – QUALITY! 10 on each side; front; inside; outside, all 3 or only 1…..hey: it's YOUR challenge!!
CraneBalance on One Leg: elevate one knee above your belt and elevate your arms in the Crane position – balance 20 seconds each leg – this is your consistent goal by month end.
Last week of Month, or over THANKSGIVING Break: Write an Essay no more than 2 paragraphs, "Why should we consciously make the effort to challenge ourselves?"
Do something for someone every day without being asked!
By December 8th, Submit your essay and a summary of your achievements!  The Winner will take home a medal or other treasured relics and prizes from the Dojhang.