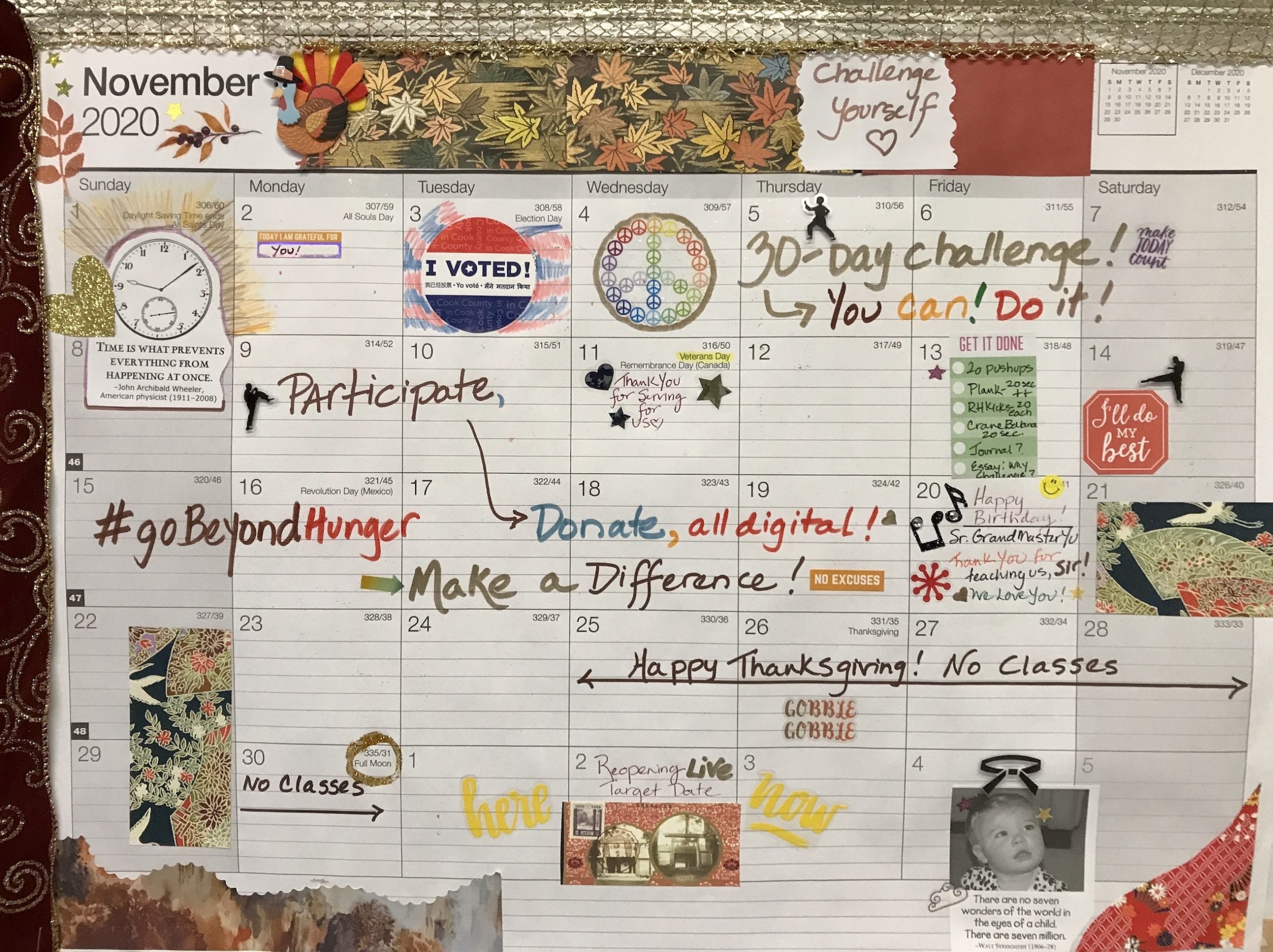 Your 30-Day November Challenge: Run with it!
Welcome to November – let's have a focused, healthy, and strong month as we keep COVID away, and head into the home stretch (Hopefully!) of 2020 and the dreaded virus.
November 30-Day Chellenge
OK, this challenge is so incredibly Do-able and something you can sneak in together with your abundance of stay-at-home family time.  All you have to do is be willing.  That's it.  The rest will be SO EASY!!  Let me preface this with some advice given by Alex (age 9) in her essay entitled, "How Can You Be the Best of the Best When Things Don't Go the Way You Expect?"
Be flexible! Find creative ways to do the things that you love!
Never Give Up! (this is #7 of the Creed!)  Keep making changes until it is right for YOU!
Focus on things that you CAN Change and control.  Don't bother with things that are out of your immediate power to change.
Wisdom – right?
Now, on to your challenge for November:
Let's do this!
Daily:
20 Pushups
Planks – start with 20 seconds, or whatever duration makes you mildly uncomfortable; increase 5 seconds per day through month-end. You will be amazed!!!
RoundHouse Kicks – QUALITY! 20 consecutive snaps on each side  – increase by week up to 30 maximum with pull-back each time.
CraneBalance on One Leg: elevate one knee above your belt and elevate your arms in the Crane position – balance 20 seconds each leg – this is your consistent goal by month end.
Last week of Month, or over THANKSGIVING Break: Write an Essay no more than 2 paragraphs, "Why should we make the effort to challenge ourselves?" Here are the essay preparation guidelines.
OPTIONAL: Keep a daily journal of your progress and your completed tasks.
Essay Submission
By December 7th, Submit your essay and a summary of your achievements!  The Winner will take home a medal, and runners-up will have their choice of other treasured relics and prizes from the Dojhang.
You've got 30 days – Go for it! We can do this, and it's going to be fun doing it TOGETHER!