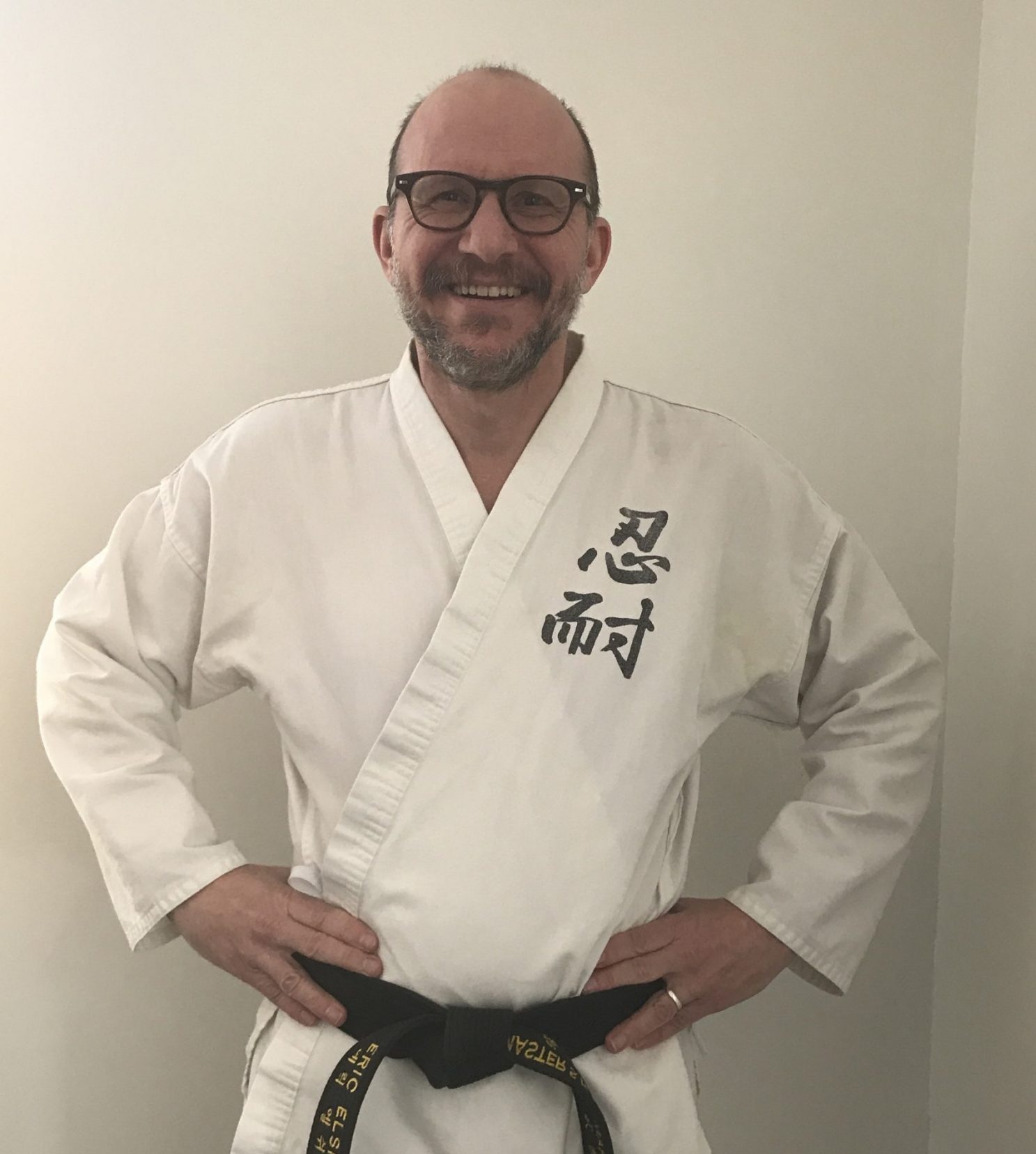 The Spirit of Martial Arts Dedication: An Instructor's View
Eric Elshtain, PhD, who just completed his 6year-journey promotion to 2nd Dan Black Belt (1st Dan: 4 years; 2nd Dan: 2 more years!), is a homemaker, teaching poet, and poet-in-residence at Chicago's Field Museum. His daughter Christie started at age 5, now age 14,  is now 3rd Dan Black Belt,  and inspired him to join Master S.H. Yu Martial Arts when she was promoted to Junior Black Belt (ChoDanBo). Eric thought that he would join for six months to fulfill his promise to his daughter. However, now, 6years later, martial arts quickly became a part of his life, and Prof.Eric has devoted himself to the practice since his first class as a white belt!  He achieved & completed his 2nd Dan BlackBelt training all online last year during the pandemic.  Please see our note at the end of this article with more information or to contact Professor Elshtain!
The Spirit of Dedication
"When you dedicate something to another — whether it is a poem, a work of art, a charitable donation, a song, or a tree—you are giving a gift of yourself.  You have put your labor, heart, and investment into that gift without expectation of anything in return. In the same way, dedicating your own self to an idea, person, or community through time, love, and labor is a selfless act of devotion, an unconditional gift.
By dedicating yourself, you are setting apart from regular consideration the object of your dedication, marking that object as special, as an object to which you want to give your whole-hearted commitment. This commitment is based on a rationale at once emotional and mindful—here is a place where I want to place my heart and spirit—here is a place around which I want to organize my time, work, and attention. Through dedication we welcome something into our lives, and it becomes a part of our way of life.
The spirit of dedication, once offered, fosters more dedication, leading to a sense of shared sacrifice and devotion. For example, the Dojhang welcomes us, and we, in turn, welcome the Dojhang into our lives.  Senior Grandmaster Yu's unconditional dedication to tradition, giving of himself through teaching and loyalty to his students is always palpable, leading to the Dojhang's students' own fierce dedication to the practice of martial arts and to the Dojhang.
Many students and their parents travel great distances to learn from Senior Grandmaster Yu and his home-grown, well-trained, in-house instructors.  Adult students sacrifice time away from home, often coming to the Dojhang straight from work, in order to maintain their practice and pursue life-long learning. Dedication is the rationale behind these actions and sacrifices.
This past year has been especially challenging for everyone.  Senior Gradmaster Yu's dedication to his students has led him to make many sacrifices, including the difficult decision to keep the Dojhang closed during the pandemic, to reorganize teaching to virtual platforms, all for the safety of students and instructors.  In turn, students have redoubled their dedication, focusing their efforts at home, transforming basements and living rooms into small Dojhangs, and meeting and planning with one another on how to best serve the Dojhang.
We honor ourselves and the longevity of Master S.H. Yu Martial Arts through our dedication to martial arts. Our dedication is rewarded, not because we require compensation, but because we know that Senior GrandMaster Yu and all the Instructors and Masters are themselves dedicated to us, to our discovering our best selves through martial arts, customs and practice.  The Best of the Best!"
– Eric Elshtain, PhD, 2nd Dan Instructor*
About Dr. Eric Elshtain
*Over the last few months, Professor Elshtain has been helping several members of our martial arts family with tutoring. "Grandmaster Yu has asked me to extend my services to you or your students. I have been a teacher and tutor for 30+ years, and have experience with ages from kindergarten to college classes (including at the University of Chicago, where I received my PhD in 2010), from students with learning disabilities to students who seek and need enrichment. My specialty is literature and writing;  I can also help with critical thinking skills, college applications, and a wide range of classes, from civics to history.  As a teacher and tutor, I believe any student can feel the joy of discovery, whether it is for a new idea, a new talent, or a new appreciation for a subject that once felt burdensome, boring, or "useless." Part of teaching and learning is to explore the boundaries of a subject to find the best approach and materials for an individual student, regardless of ability, that captures their curiosity.  Similar to Sr.GrandMaster Yu,  I start by recognizing your strengths!"
Professor Elshtain can help you or your child with literature, creative writing, essay writing, college application essays and other subjects to enrich their learning through thoughtful and engaged tutoring, using Zoom or in a safe, health-conscious setting.
For more on his work as the Field Museum's poet-in-residence, click the links below:
More info? Please email eric.elshtain@gmail.com