AirborneKicks Camp
August 8, 2022 @ 2:00 pm

-

August 12, 2022 @ 4:00 pm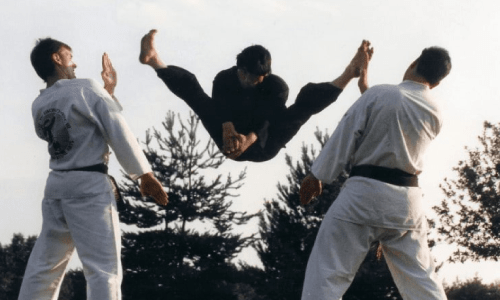 AIRBORNE KICKS – 5-day INtenSIVE!: August 8-12, 2022 – Monday through Friday, 2:00-4:00pm.
Students BlueBelt and above (+ lower ranks with Master's invitation) are invited to take advantage of this awesome training opportunity.  You build your strength, skill and martial artist's mind, and improve your martial arts performance in every way possible! We purposely schedule these before our regularly scheduled classes. 
Pre-registration is encouraged: we have a 10-student minimum, 20-student maximum and custom-plan curriculum to enrollment.  All special training camps developed and led by Supreme GrandMaster Yu.
Beyond conditioning, the technical mechanics of the many airborne kicks, which may include jump sidekick, doublejump front kick, jump spin wheel kick, scissors kick. Make TigerEyes and sign-up now! Don't miss this awesome opportunity to close out your summer strong and confident!
$395/week; 95/day (minimum 3-day camp attendance strongly encouraged)
Registration/More Info: MasterWilson@Master-SH-Yu.com