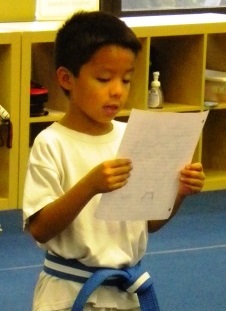 March 2015 Essay Question
Reflect, Write, Draw, Present your Essay!!
Congratulations to all our students in the Children's / Youth Program who completed the skills portion of their test last Saturday.  We came away inspired by your confidence, poise and fantastic performance!  We are looking forward to the continued excellence this coming Saturday, March 14th, as our Teen and Adult students step up to test.
Reflecting on a topic relating to our martial arts practice, and then writing and/or drawing your thoughtful response, and finally presenting it to our community, is an equally important part of your test.
We were so happy to receive so many entries for Essay Questions!  Thanks to all the students and junior instructors who submitted their ideas.  This time, we have two different questions, assigned to your age: we hope you enjoy creating your responses for presentation at our Belt Ceremony on Friday, March 20th!
Essay Questions for Young Martial Artists
Essay Question for Children 5-12:  "How does the Creed make you be a martial artist?"  – question submitted by Sophie, age 6.
Essay Question for Teens 13+ and Adult Students: "Why do we keep etiquette (ie, a code of conduct) between teacher / student / rank, and in doing so, discipline our self?"
For tips on how to prepare your essay, check out our karate and martial arts FAQs page.
For details on our Promotion Ceremony, check out our Events calendar.
Contact Us
For any other questions regarding the essay, please contact Master S.H. Yu Martial Arts directly at (708) 383-3456 or contact@master-sh-yu.com.