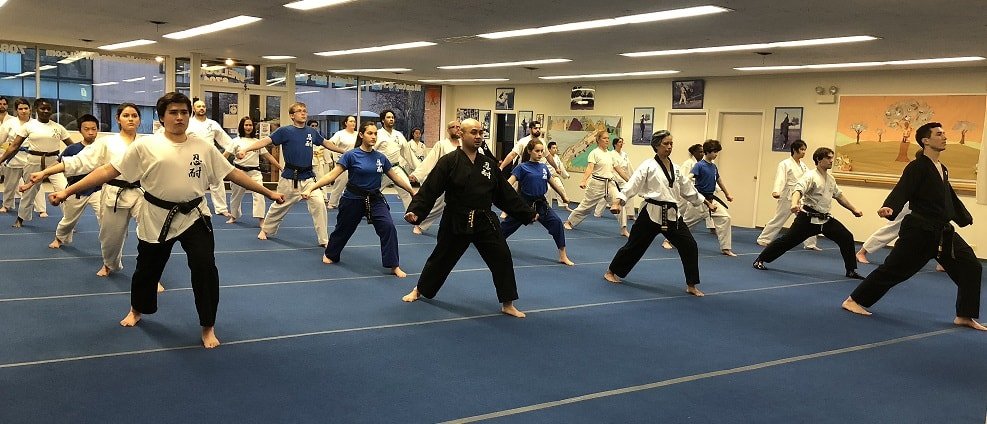 What to Consider When Looking for a Martial Arts School
Unlike some sports, studying and practicing martial arts is oftentimes a lifelong commitment. The dedication required to excel in training requires that the student pick the right martial arts school. Numerous considerations should be the prime focus when evaluating classes.
Most adults, when looking for martial arts training for themselves or their children, do not look beyond the price of training, the proximity to the school and the classes' marketing materials. These individuals may know little about the discipline, gaining minimal knowledge mainly through TV and movies.
Choosing a martial arts school should be done carefully. Avoiding later regret is best achieved by considering the training space, individual martial arts goals, and the quality of instructors. It is also advised to be cautious of self-appointed  "blackbelts", leading to an unfavorable martial arts experience.
1. Inspect the facility
A clean, organized and well-maintained facility is reflective of the school's professionalism. A quality school does not have to be a showstopping arena. Even a spartan, clean and unornate facility can deliver optimum training. Run from schools with rundown, sketchy facilities.
The training space reveals the priorities of the instructors, which could be either themselves or the schooling. Notice whether spirituality or trophies are emphasized. Pay attention to gut feelings. A good school inspires confidence, respect and pride rather than simply being a place to work up a sweat.
2. Interview instructors
A good teacher pushes students to perform to their best, challenges them, sets challenging expectations, and shows them how to have fun—all while inspiring trainees to return to weekly class year after year. The prospective student should visit several area schools and interview students and teachers to find the right fit.
The values a teacher promotes should ideally match the values the students want to instill in themselves. Martial artists also train their entire lives. It is important to ask the instructors where they trained and continue to train to improve their skills.
3. Research credentials
Fake eighth-degree black belts can claim to be instructors. High ranks take decades to earn. Expect the teacher to have trained for five years per black belt rank. An instructor with a fifth-degree black belt in one art and a third-degree in another will never be 25 years old.
Conduct online research to learn about the schools and affiliated organizations. Online customer reviews are telling, and the school's affiliation organization should have a website. Prospective students who thoroughly research facilities will safely steer clear of pretentions and damaging falsehoods.
4. Visit classes
Upon visiting classes, prospective students should watch the instructor for cues. A reputable school will be taught by instructors who make classes enjoyable. A chat with current students and parents will reveal their impressions about the school and instructors.
Schedule visits to multiple levels of classes. Rather than sit in on just an introductory class, visit black belt classes, sparring classes and belt tests. Evaluate the attitudes of instructors as the students make progress. Look for firm, yet affirming instruction that brings out the best in every student at every level.
Today's martial arts schools will have a diverse student population. Trainees should vary in age, gender, occupation and ethnicity. Reputable schools attract a wide variety of experience and knowledge and reflect the community. They are environments where high-value, high-quality instruction is prized. Martial arts, traditionally, is inherently inclusive and offers benefits to literally everyone.
A visit to the class will demonstrate whether the instruction is intended for the young or designed to be practiced by a martial artist for an entire lifetime. Look at schools where instructors use motivating, affirming language, like "try doing this" rather than "this is wrong/right".
Consider a school where teamwork, mutual support and a sense of community are the primary focus. A school that prioritizes only competition may not be in a student's best interests. Also be wary if a large number of suspicious injuries occur on school grounds.
5. Evaluate contracts
Watching a class or two before signing a long-term contract is recommended. It is important for the prospective student to feel the school is right for him or her. When the student is a child, watching lessons help gauge whether or not she is mature enough to handle the instruction.
Commitments may be multi-year, but these are not always suited for children. Young students especially may lose interest over the years or be distracted by other sports. Martial arts schools operate on a set budget, but the right ones improve students' lives rather than focusing on revenue only.
Settling on the right martial arts school takes time and effort. Choosing the wrong one can lead to student drop out or abandoning their desire for mastery. Making an informed decision, however, by considering all of the above will more likely point a prospective student in the right direction.
Martial Arts with Master S.H. Yu Martial Arts
Please note, we are currently operating online with registered students only. With pending vaccine distribution and continued improvement in COVID-19 Public Health Metrics, we look forward to accepting new martial artists in the near future. We anticipate re-opening in May with limited capacity: we can't wait to welcome you, initially by appointment.
Families with young children who show an interest in the martial arts are encouraged to consider classes at Master S.H. Yu Martial Arts. We offer training in a wide range of martial arts disciplines. Your child will benefit from our Kids' Karate classes and KinderKarate for children in preschool.
Master S.H. Yu Martial Arts also offers martial arts lessons for adults. Among our disciplines are kumdo martial arts, tae kwon do, and 12-week martial arts. Adult students learn not only invaluable self-defense techniques, but a lifestyle that boasts ease of movement, agility of mind and body, and a steady disposition. We are committed to improving the overall wellbeing of our students.
Invest in a martial arts school with an excellent reputation for quality training. We are affiliated with international organizations, including the Kukkiwon World Tae Kwon Do Federation. Master S.H. Yu Martial Arts is a wholistic learning center for  lifelong learners and students of all ages and backgrounds.