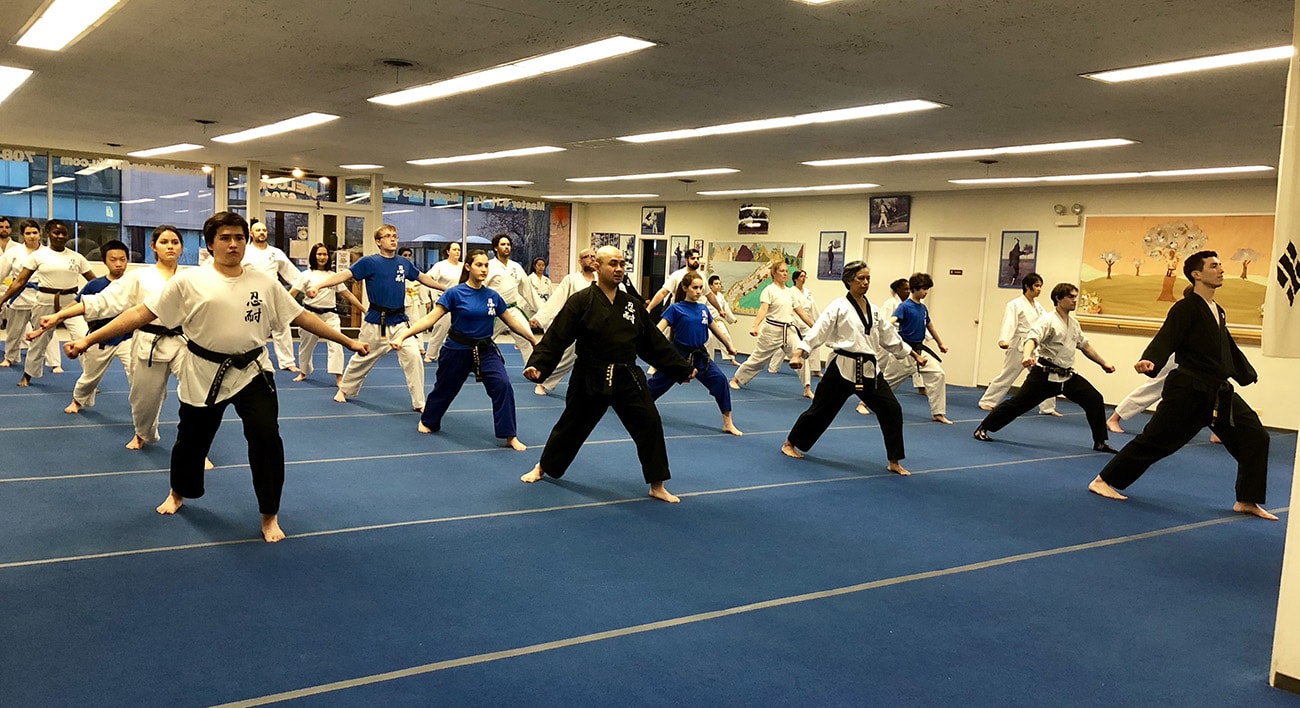 Evening Adventure: Martial Arts for Me
Spending the evening pursuing personal goals, fitness, and family time is probably high on the list of most professional adults.  We have been programmed to make the most of our time, and we pride ourselves on making healthy choices for ourselves and our families (most of the time!).
There are so many choices now for our evening fitness/family time. Now that Fall is here, there's always the park; or maybe we go the boutique fitness route and head over to barre, or yoga, or kickboxing, or group fitness.  Why do I choose a Martial Arts Dojhang as my favorite place to hang out in the evenings?
Choosing the Martial Arts Dohjang as Your Favorite Place
Adult & Children's Martial Arts is founded in Etiquette and Manners.  I love this aspect of Martial Arts Training.  There is a graciousness and level of respect in traditional martial arts practice that permeates the environment of a true dojhang.  Dojhang literally translated means "Place of Discipline – Place of Enlightenment".
Relating to the etiquette is experiencing eastern culture, and being a part of a thousand-year old historical practice, one that has stood the test of time in the pursuit of the human development of body, mind and spirit.  I love the immersion in "Practice for a Purpose", vs. general fitness and conditioning. There is something calming to the body, mind and spirit when the body and mind are engaged in learning. This is true for both children and adults! Our Student Creed outlines a healthy, respectful way of living that we all appreciate.
Being part of another family, our Martial Arts Family, apart from and together with our own families promotes community, shared experiences, and community wellness.  Practicing Martial Arts with children, including ones own children, promotes patience, understanding and indescribable joy!  As one of our Sr. GrandMaster Yu parents has put it, "I love studying with my children: it is the one place where we can share an experience and I don't have to be 'in charge' of them!"
Apart from Health and Fitness, flexibility and agility, all great benefits from Martial Arts practice, you get self-defense, safety training, confidence building, and a big boost of empowerment and self-esteem.  Talk to me after you break your 1st 1-inch construction grade-board!  You will be in AWE of yourself (I was!)  Then you will break 2-in, then 3-in, then 4-in, then…….!
There is an element of, "Conquering Yourself" that is attractive to high-achiever, pro-active types!  Here's what one of our High-Ranking Color Belt Women, Ms. Shelley, has to say about that: "To conquer yourself means to dominate and overcome personal perceived weaknesses in an effort to become the best version of ourselves possible.  This is a practice that we can adopt in martial arts and in life because we all have strengths and shortcomings.  The more we have command over both, the closer we become to being the best that we can be."
Combine Family and Fitness Time
These are just five reasons our Master S.H. Yu Martial Arts Dojhang is my favorite place to combine family time and fitness time. Family of Oak Park, River Forest, Forest Park, Elmwood Park, Riverside, or any of our surrounding villages, come and find your reasons!  We know that with one visit to our Dojhang, you and your family will find it a favorite place to enjoy your own Evening Adventure and much more!  Contact us today to visit and register.  Our 12-week program is a great place to begin!
Contact Us
To get started with your martial arts journey, contact Master S.H. Yu Martial Arts at (708) 383-3456 or contact@master-sh-yu.com in Oak Park and River Forest, IL today.