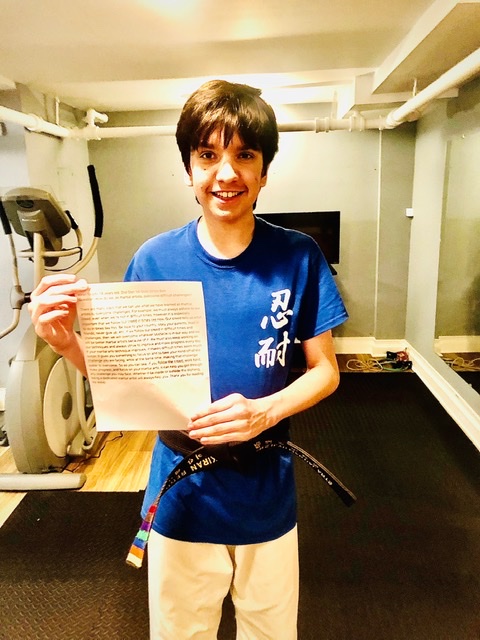 Martial Artists Know How to Overcome Difficult Challenges
Everyone is thinking reopening, stay-opening, back-to-school, and staying engaged in our personal development.  Our young Jr. Instructor, Kiran, age 14, who is on the verge of testing for his 3rd Dan Black Belt,  and incoming OPRFHS Freshman, has some easy-to-follow ideas for us.
During a recent (online)promotion test, GrandMaster Yu asked Kiran a simple question:
How do we, as martial artists, overcome difficult challenges?
Here's what he had to say:
"There are many ways that we can use what we have already learned as martial artists to overcome challenges. For example, we adhere to our creed, even when we're not in difficult times, however it is especially important that we follow our creed in times like now. Our creed tells us what to do in uncertain and challenging times like this. It gives us something concrete to depend on:

Be loyal to your country, obey your parents, trust in friends, never give up, etc. If we follow our creed in difficult times and challenges, then we will overcome whatever obstacle is in our way and we will be better martial artists because of it. We must also keep working on our techniques and always strive to improve and make progress every day. If your martial arts technique improves, it makes difficult times seem much easier. It gives you something to focus on and to take your mind off of the challenge you are facing, while at the same time, making that challenge easier to overcome.

So as you can see, if you follow your creed, work hard, make progress, and focus on your martial arts, it can help you get through any challenge you may face. Whether it be inside or outside the dojhang, being a dedicated martial artist will always help you.

Thank you for reading my essay."
And THANK YOU, Kiran, for your inspiring words and presence! Let's commit and grow together despite any obstacle. 🙂
Contact Us
How do you overcome challenges as a martial artist? We'd love to hear it! Please fill out a contact form or contact Master Wilson at 708-383-3456.