Preschool Martial Arts Oak Park
Master S.H. Yu Martial Arts is proud to provide preschool karate classes for preschool students in the Oak Park, IL area.
Bring your pre-schooler to a true martial arts experience! We will accept a maximum of 10 children per class session.  Early registration encouraged!
Tuition is month-to-month, with seasonal specials. KinderKarate classes are taught by Master Wilson, who holds a Masters in Social Work, along with a Certificate in Early Childhood Education. Children under her guidance receive developmentally appropriate training in martial arts, and benefit from her background in child development.
Children who develop an understanding of their personal space and capacity for health and self-confidence at an early age through martial arts training lay the foundation for wellness, safety and attentiveness through their developmental years. Serving the community with quality karate classes for preschoolers in Oak Park since 1994.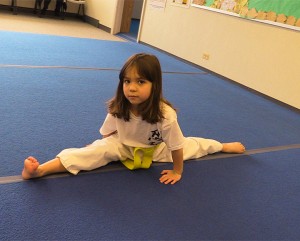 Schedule
When: Tuesdays and Thursdays from 4:00 – 4:40 PM
Contact us to schedule an on-site registration.
Ages: 4 to 5 years
Contact Us
Contact Master S.H. Yu Martial Arts at (708) 383-3456 in Oak Park, IL today for more information!
---
Related KinderKarate Services
Preschool Karate Elmwood Park, IL
Preschool Karate Riverside, IL
Preschool Karate River Forest, IL
Preschool Karate Forest Park, IL