At Master S.H. Yu Martial Arts, we know that children as young as 4 and 5 years old can understand the movements and the principles behind martial arts.
Children of this age are prime for the physical activity as well as the discipline and philosophy of martial arts which provide a great challenge for their developing minds and bodies.  That is why we offer KinderKarate classes for preschool children and kindergartners in River Forest, IL.
Preschool Karate River Forest, IL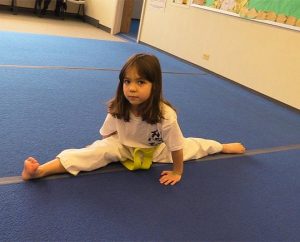 Our KinderKarate instructors make these classes into a safe-zone so you can rest assured that your 4-5 year old can practice martial arts in a safe environment.  We take child safety very seriously.  The instructor of our KinderKarate classes is Master Wilson who is certified in Early Childhood Education and holds a master's in social work.  She teaches this class in a way that your children will be doing physical activities that are developmentally appropriate for children of this age.
Your young child will have a true martial arts experience and learn from our trained and experienced instructors.  The skills they learn in this class will help them if the decide to continue pursuing martial arts as they get older.
What Students Learn in KinderKarate Class
Through martial arts training, your children learn important principles regarding physical health, personal space, and self-confidence that will help them grow to be healthy and attentive.  We will also make sure your children will have the ability to defend themselves and better self-control over their mind and emotions. You can expect your children to learn the following from our KinderKarate classes:
Self-confidence which will help them overcome challenges and insecurities
Better understanding of self-discipline, personal space, and physical health.
Better attentiveness and awareness of their surroundings which will help them stay safe
Overall physical and mental wellness that can help them excel in social and academic situations
Master S.H. Yu Martial Arts takes pride in introducing young children in River Forest, IL to the discipline of martial arts with our KinderKarate classes.  You are welcome to visit one of our classes to learn more about our program before enrolling your child.
Enroll in KinderKarate Classes
If you would like to enroll your child in KinderKarate class, contact Master S.H. Yu Martial Arts by calling (708) 383-3456.  Our KinderKarate classes have a maximum of only 10 students so register your child as soon as possible to get a spot in the class.
---
Related KinderKarate Programs:
Preschool Karate Riverside, IL
Preschool Karate Oak Park, IL
Preschool Karate Elmwood Park, IL
Preschool Karate Forest Park, IL