There is much beauty in the precise movements one can make with the sword which makes it more alluring and majestic than other weapons.  Kumdo is just one of many martial arts disciplines that focus on the mastery of the sword.  At Master S.H. Yu Martial Arts, we offer Kumdo martial arts classes for those who are interested in learning the art of swordsmanship in River Forest, IL. 
Kumdo is an ancient school of swordsmanship from the Three Kingdom period of Korea.  Throughout centuries of practice, swordsmanship techniques from other disciplines, including Japanese kendo, have been adopted into the practice of Kumdo.
Why Choose Kumdo?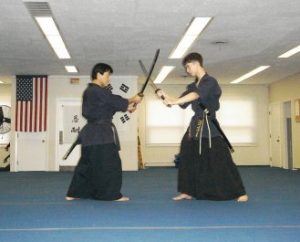 Swordsmanship is a challenging endeavor that requires an advanced level of focus and dedication.  Students who study Kumdo under Sr. GrandMaster Yu develop an intense passion for this art and spend their lives mastering and perfecting their skills.  The dedication and focus it takes to master the art of the sword can translate to other areas of your life and have a positive impact on you socially, professionally, and academically.
Practicing Kumdo martial arts will teach you to master your body and mind and adopt the principles of grace, dignity and power.
What are the Benefits of Kumdo?
There are many benefits of practicing Kumdo that can help you be more successful in all areas of life.  These benefits include the following:
Improved focus and self-discipline
More self-confidence and self-control which can help in every area of life
Higher sense of awareness
Improved physical agility and confidence that can help in any physical activity
Improved balance and control of movements
Why Choose Master S.H. Yu Martial Arts
Our highly skilled and experienced instructors can offer you quality training in the art of Kumdo.  Sr. GrandMaster Yu is a Kumdo Master who is internationally certified by the World Haidong Kumdo Federation.  He has personally trained our Kumdo instructors and provides training himself.  You can expect to learn the following from our Kumdo program:
Sword etiquette
Techniques for drawing, sparring, and retreating
Training with wooden and bamboo swords
Our instructors take the safety of our students very seriously and will make sure that they provide a safe environment to learn.  There are a limited number of seats in our Kumdo classes so make sure you enroll as soon as possible.  Students age 10 and up are welcome to join our Kumdo program.
Contact Us
If you are interested in studying Kumdo martial arts in the River Forest, IL area, contact Master S.H. Yu Martial Arts at (708) 383-3456 for more information.
---
Related Kumdo Programs:
Kumdo Martial Arts Programs Elmwood Park, IL
Kumdo Martial Arts Training Riverside, IL
Kumdo Martial Arts Lessons Oak Park, IL
Kumdo Martial Arts for Adults and Kids Forest Park, IL