There's something very alluring and majestic about the sword. In comparison, other weapons and tools seem ungainly and crude. There are several martial arts focused on mastering this fine weapon and one of them is Kumdo.
This is an ancient Korean school of swordsmanship that dates back to the Three Kingdoms period before the Common Era. Over time this martial art has incorporated aspects of other swordsmanship techniques, including the Japanese kendo.
Master S.H. Yu Martial Arts offers kumdo martial arts classes in Forest Park, IL and the surrounding areas.
Kumdo Forest Park, IL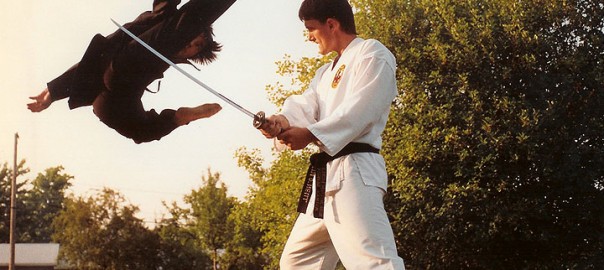 Swordsmanship is an art form that requires intense dedication and focus. Most of our students develop a lifelong passion for it and will constantly work on improving their craft. This kind of dedication and focus has a positive impact on other aspects of your life as well, including social, academic, and professional spheres.
Kumdo martial arts teaches dignity, grace, and power and with practice, you can master your mind and body enough to harness all their potential.
What Are the Benefits of Kumdo?
Kumdo helps develop several qualities that can help you grow and succeed in life and these include:
Kumdo martial arts will help you develop focus and discipline.
It will also encourage self-confidence in every sphere of your life and provide a sense of calm and control.
Regular practitioners of Kumdo have a higher sense of awareness of their surroundings.
They also have improved physical agility and competence. Training in Kumdo will help you with other physical activities and sports as well.
Kumdo will teach you control and economy of movement and help you stay balanced.
Why Choose Master S.H. Yu Martial Arts?
We offer real and practical training in Kumdo provided by experienced and skilled instructors. Sr. GrandMaster Yu is internationally certified as a Kumdo Master by the World Haidong Kumdo Federation and he has personally trained most of the instructors that handle classes. In our program, you can expect:
Lessons on sword etiquette
Drawing, sparring, and retreating techniques
Training with wooden or bamboo swords
Skilled instructors that keep your safety and well-being in mind.
Our Kumdo martial arts classes have a limited number of seats so contact us today if you want to enroll. We accept students 10 years of age and up.
Contact Us
If you have any questions about our Kumdo martial arts classes at Forest Park, IL, don't hesitate to get in touch with us at Master S.H. Yu Martial Arts. You can contact us or call us at (708) 383-3456 for more information.
---
Related Kumdo Martial Arts Programs:
Kumdo Martial Arts Training Riverside, IL
Kumdo Martial Arts Programs Oak Park, IL
Kumdo Martial Arts Lessons River Forest, IL
Kumdo Martial Arts for Adults and Kids Elmwood Park, IL