"Kumdo", otherwise known as "The Art of the Sword", is a traditional Korean swordsmanship dates back to the period of the Three Kingdoms of Ancient Korea (circa 700AD). Kumdo, even today, is a representation of strength, grace, and honor.
Kumdo Martial Arts Elmwood Park, IL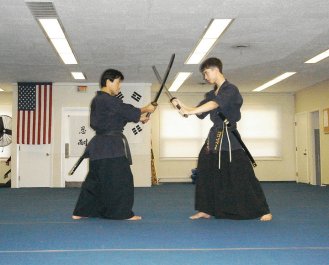 Kumdo martial arts is taught by Sr. GrandMaster Yu in the Elmwood Park, IL area. This Korean swords program helps you develop a sense of confidence, focus, and harmony. You will not only learn kumdo martial arts, drawing, retreating and sparring techniques, but you will also attain a high level of awareness through rigorous workouts. You will be taught and practice all swords programs with a wooden sword and a bamboo sword.
Ages: 10+ years
When: Saturdays at 10:30 AM
Instructor: Sr. GrandMaster Yu
A challenging, weekly, one-hour Kumdo martial arts workshop will combine your warrior spirit and your physical ability (you can join at any time, but space is limited.)
Sr. GrandMaster Yu is an internationally-certified Kumdo Master of the World Haidong Kumdo Federation. He teaches elite martial arts, NOT a sport. Experience the exhilaration of learning from a true Kumdo Martial Arts expert!
Contact Us
Contact Master S.H. Yu Martial Arts in Elmwood Park, IL today at (708) 383-3456 and make an appointment to observe a class. We will work with you to plan your Kumdo Martial Arts Training!
---
Related Martial Arts Programs:
Kumdo Martial Arts Programs River Forest, IL
Kumdo Martial Arts Programs Riverside, IL
Kumdo Martial Arts Classes Forest Park, IL
Kumdo Martial Arts for Kids and Adults Oak Park, IL