Master S.H. Yu Martial Arts has offered kids karate classes for children in River Forest, IL between the ages of 5½ and 14 since 1994 with growing enrollment each year.
Our kids' karate classes at Master S.H. Yu Martial Arts can help aid in your child's physical and mental development.  Sr. GrandMaster Yu has structured our kids' karate program to help children realize their full potential through the practice of martial arts.  Children who take martial arts classes are generally happier, healthier, and more emotionally balanced which can benefit them greatly in their teen and adult lives.  Your child will benefit in many ways from learning martial arts with Sr. GrandMaster Yu and our professional instructors.
Benefits of Martial Arts for Children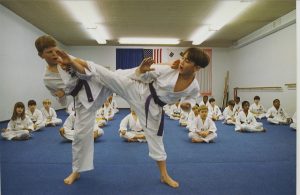 Sr. GrandMaster Yu developed our kids' karate classes based on his years of experience teaching martial arts to young children.  These classes offer a structured training environment for children and help improve their physical strength and mental well-being.
It has been shown that children who practice martial arts are more likely to excel academically and socially and they often develop a stronger sense of self.  Children who have attention disorders or sensory integration can benefit greatly from martial arts classes because they will develop a sense of respect for themselves and others.
Your child can enjoy the following benefits with proper martial arts training:
Self-defense skills
Physical exercise
Self-confidence
Self-discipline
Better emotional control
Respect for martial arts and personal boundaries
Higher self-esteem and emotional stability
Better mental focus and acuity
Better social and academic performance
Why Master S.H. Yu Martial Arts
Give us a call at 708-383-3456 in the River Forest, IL area for kids karate classes.
Our instructors emphasize the principle or self-control to promote the idea of avoidance, which is avoiding confrontation in dangerous situations.  This is part of our anti-bullying message.  We also teach children to respect the martial arts and master the art form properly.  The stable and structured learning environment we create will help your child succeed and enjoy the benefits of practicing martial arts including the improvement of physical and mental health.
Our instructors have much love and respect for our students and they are happy to be a positive adult influence.  We will help your children develop their skills and reach their potential through martial arts practice.  Martial arts focus on physical and mental development more than team sports which can teach your child to be responsible, compassionate, and strong in the face of opposition.
Karate for Kids River Forest, IL
Seeing is believing: You are welcome to visit a class at Master S.H. Yu Martial Arts to observe our environment and instructors before enrolling your child.  Children who enroll in our classes will receive some instruction from Sr. GrandMaster Yu himself, a world-class, 9th Dan and internationally recognized GrandMaster.
Register for Classes
If you live in the River Forest, IL area and your children are interested in learning martial arts, contact Master S.H. Yu Martial Arts at (708) 383-3456 register for our kids karate and martial arts classes today.
Beginners
These classes are for children who are just beginning to study martial arts; these are ongoing classes.
Time: Monday – Thursday 4:40 to 5:30 PM and Saturdays 9 to 10 AM
Ages: 5½ to 12 years old
Intermediate and Advanced
There is a higher difficulty level to these classes and students can earn their black belt or train to be a junior instructor.  These classes are available year round.
Time: Monday – Thursday 5:30 to 6:20 PM, and 6:20 to 7:10 PM; Fridays at 5 PM; and Saturdays 9-10 AM
Ages: 10-14 years
Master S.H. Yu Martial Arts Dojhang
We strive to create a sanctuary out of our Dojhang where people can feel comfortable practicing and studying martial arts.  This space is 5000 square feet with 2½ inch regulation gymnastics carpet bonded foam matting.  We maintain the flooring for the hygiene and safety of our students.
---
Related Martial Arts Programs for Kids:
Karate for Kids Riverside, IL
Karate for Kids Elmwood Park, IL
Karate for Kids Oak Park, IL
Karate for Kids Forest Park, IL