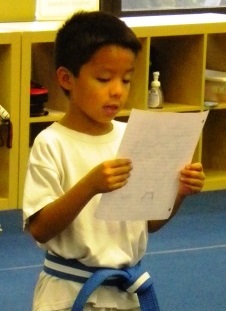 Essay Question – Fall 2015
Congratulations to all the children who tested for advancement during our Fall Promotion Test!
Adults & Teens test is on Saturday, September 19th at 12Noon.
Essay Questions
Looking ahead to our Promotion Ceremony, on Friday, September 25th, please enjoy preparing your essay!  Choose from one of the following two questions:
1.  "What is your favorite part of being a martial artist?" – submitted by Jr. Instructor Nainoa, age 10.
2.  "How do you use martial arts to your advantage in other times of life?" – submitted by Sophie Ho, age 7.
Thanks to all the children and young instructors who submitted their essay ideas! We are always interested in your ideas of topics you would like to think about for your essays.  If you are interested in submitting a topic, please do so in writing, and we will consider your submission for future essays!
Essay Guidelines
Check out our essay preparation guidelines here https://www.master-sh-yu.com/faqs/essay-requirements/