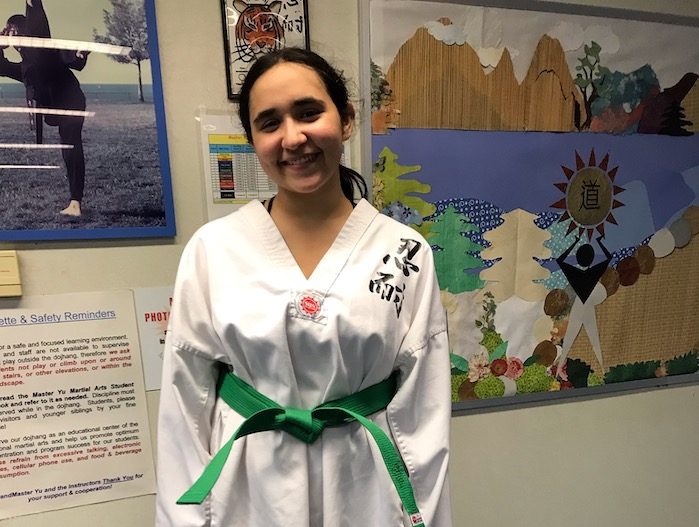 On Living the Creed, Teen Version
In our continuing series of essays, "Ways to Follow Your Creed", we offer this entry from Margot, age 15, recently promoted to Purple Belt, and now preparing for Brown Belt.  We think you'll agree:  there is great wisdom here! (posting with permission, photo from last year)
Margot's Essay
It is very strange to think that less than a year ago, it was considered rude to cross to the other side of the street on seeing someone.  You didn't expect people to wear a mask around, and a sudden cough wasn't that troublesome.  Something that really struck me was how I now react to seeing someone unmasked in a store. Just some months ago, the same sights would be normal.  Now, it seems inconsiderate and reckless.  It feels like quarantine only just started, and something about the way things are now seems both normal and entirely alien.
Throughout this peculiar, scary, and sad time, it has been important for me to make the best of the situation.  I have focused more on my health and actually have become less stressed.  With the time I would have spent commuting to school, I've instead exercised and practiced my hobbies more.  Naturally, martial arts fits into this picture.  I find I can actually attend more classes, (they are on Zoom) and I've even started practicing more.  When I'm waiting for my siblings or by myself, I will often just practice kicking using the tips and techniques given to me by my teacher, Sr. GrandMaster Yu (as long as there's enough room!).
In the end, although there have been many setbacks and challenges this year, I also think there has been progress, and we cannot ignore that.  I encourage us to stay hopeful and keep practicing; the only way to keep that progress going is to keep yourself going.  I believe in everyone!
Respectfully submitted by Margot, purple belt, age 15
Contact Us
We would love to see more essays regarding your experience with these challenges. Please email to me directly at masterwilson@master-sh-yu.com.